11/07/2020
Coronation Stakes (Gr.1)
Pouliches de 3 ans.
£260,000 (£148,000 - £55,975 - £27,975...)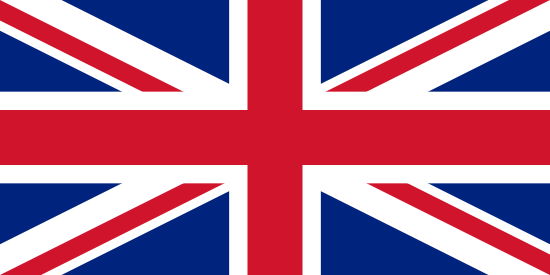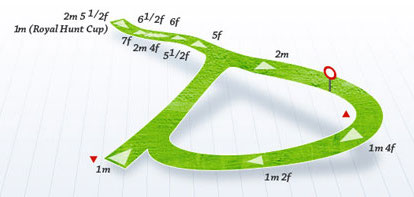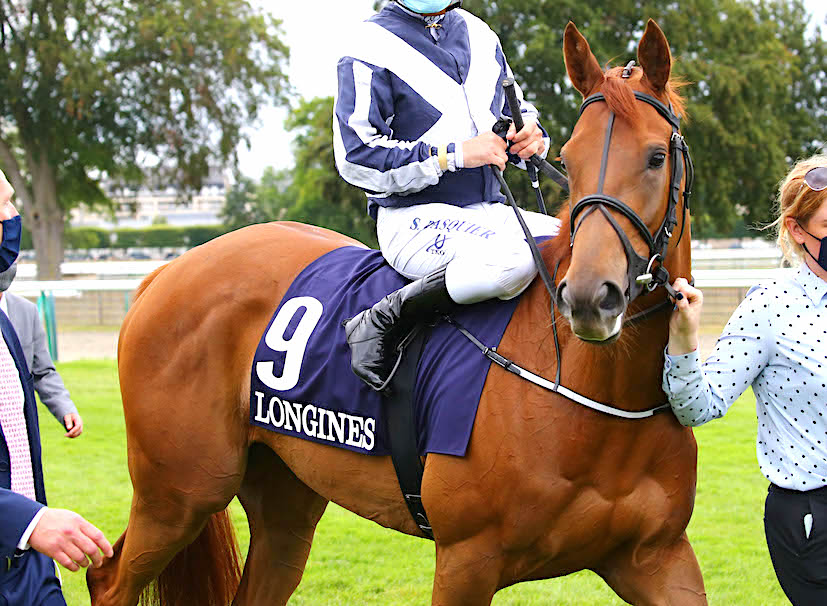 Conditions détaillées :
Weights: 9st each

Historique :
Course créée en 1840, pendant des St James's Palace Stakes pour les mâles, les Coronation Stakes se disputent traditionnellement lors du meeting de Royal Ascot sur 1600 m corde à droite. Elle est réservée aux pouliches de 3 ans, et a accédé au label Gr.1 en 1987.
Programme :
On retrouve souvent au départ les gagnantes des 1000 Guineas Stakes, des Irish 1000 Guineas et de la Poule d'Essai des Pouliches, pour une finale permettant de prendre une option sur le titre de meilleure pouliche européenne sur le mile. Elle n'a pas d'équivalence dans le programme français (au niveau Gr.1), et mène ensuite aux bonnes courses sur 1600 m face aux mâles et/ou aux aînés.
---
Dernière édition :
20/06/2020
Coronation Stakes (Gr.1)
£260,000 - 3 ans F
1600 m turf Ascot
f. al. 3 par Sea the Moon et Alpha Lupi (Rahy)
2e : SHARING (USA)
f. 3 par Speightstown et Shared Account (Pleasantly Perfect)
3e : QUADRILATERAL (GB)
f. 3 par Frankel et Nimble Thimble (Mizzen Mast)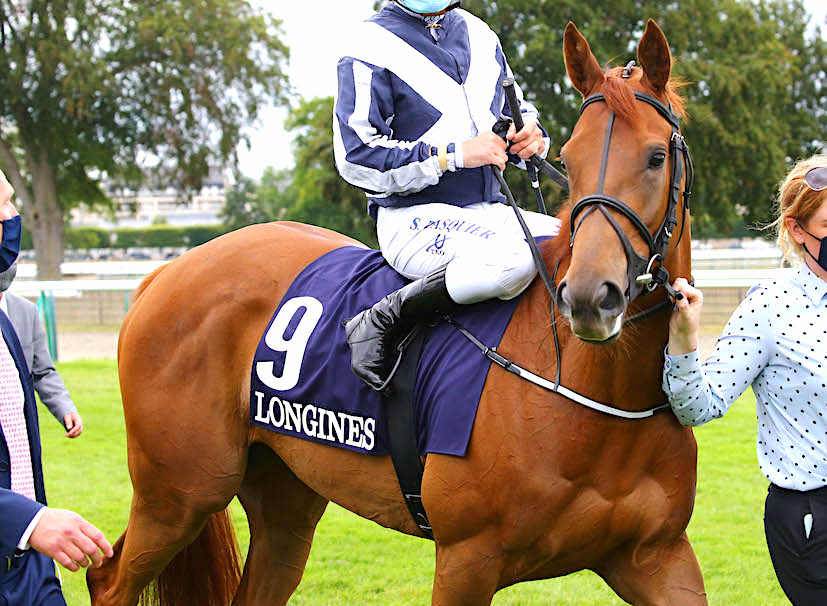 SEA THE MOON, père de la gagnante.
Editions précédentes (181 vainqueurs) :
Année
Nom
Sexe
Age
Père
Mère
Pdm
Niveau
2019
WATCH ME
f.
3
OLYMPIC GLORY
WATCHFUL
GALILEO
Gr.1

21/06/2019

Coronation Stakes (Gr.1)

£500,000 - 3 ans F

1600 m turf Ascot

f. b. 3 par Olympic Glory et Watchful (Galileo)

2e : HERMOSA (IRE)

f. 3 par Galileo et Beauty is Truth (Pivotal)

3e : JUBILOSO (GB)

f. 3 par Shamardal et Joyeuse (Oasis Dream)

WATCH ME

2018
ALPHA CENTAURI
f.
3
MASTERCRAFTSMAN
ALPHA LUPI
RAHY
Gr.1

22/06/2018

Coronation Stakes (Gr.1)

£550,000 - 3 ans F

1600 m turf Ascot

f. gr. 3 par Mastercraftsman et Alpha Lupi (Rahy)

2e : THREADING (IRE)

f. 3 par Exceed and Excel et Chaquiras (Seeking the Gold)

3e : VERACIOUS (GB)

f. 3 par Frankel et Infallible (Pivotal)

ALPHA CENTAURI

2017
WINTER
f.
3
GALILEO
LADDIES POKER TWO
CHOISIR
Gr.1

23/06/2017

Coronation Stakes (Gr.1)

£450,000 - 3 ans F

1600 m turf Ascot

f. gr. 3 par Galileo et Laddies Poker Two (Choisir)

2e : ROLY POLY (USA)

f. 3 par War Front et Misty For Me (Galileo)

3e : HYDRANGEA (IRE)

f. 3 par Galileo et Beauty is Truth (Pivotal)

WINTER

2016
QEMAH
f.
3
DANEHILL DANCER
KARTICA
RAINBOW QUEST
Gr.1

17/06/2016

Coronation Stakes (Gr.1)

£400,000 - 3 ans F

1600 m turf Ascot

f. b. 3 par Danehill Dancer et Kartica (Rainbow Quest)

2e : NEMORALIA (USA)

f. 3 par More Than Ready et Alina (Came Home)

3e : ALICE SPRINGS (IRE)

f. 3 par Galileo et Aleagueoftheirown (Danehill Dancer)

QEMAH

2015
ERVEDYA
f.
3
SIYOUNI
ELVA
KING'S BEST
Gr.1
2014
RIZEENA
f.
3
IFFRAAJ
SERENA'S STORM
STATUE OF LIBERTY
Gr.1
2013
SKY LANTERN
f.
3
RED CLUBS
SHAWANNI
SHAREEF DANCER
Gr.1
2012
FALLEN FOR YOU
f.
3
DANSILI
FALLEN STAR
BRIEF TRUCE
Gr.1
2011
IMMORTAL VERSE
f.
3
PIVOTAL
SIDE OF PARADISE
SADLER'S WELLS
Gr.1
2010
LILLIE LANGTRY
f.
3
DANEHILL DANCER
HOITY TOITY
DARSHAAN
Gr.1
2009
GHANAATI
f.
3
GIANT'S CAUSEWAY
SARAYIR
MR PROSPECTOR
Gr.1
2008
LUSH LASHES
f.
3
GALILEO
DANCE FOR FUN
ANABAA
Gr.1
2007
INDIAN INK
f.
3
INDIAN RIDGE
MAID OF KILLEEN
DARSHAAN
Gr.1
2006
NANNINA
f.
3
MEDICEAN
HILL HOPPER
DANEHILL
Gr.1
2005
MAIDS CAUSEWAY
f.
3
GIANT'S CAUSEWAY
VALLÉE DES RÊVES
KINGMAMBO
Gr.1
2004
ATTRACTION
f.
3
EFISIO
FLIRTATION
PURSUIT OF LOVE
Gr.1
2003
RUSSIAN RHYTHM
f.
3
KINGMAMBO
BALISTROIKA
NIJINSKY II
Gr.1
2002
SOPHISTICAT
f.
3
STORM CAT
SERENA'S SONG
RAHY
Gr.1
2001
BANKS HILL
f.
3
DANEHILL
HASILI
KAHYASI
Gr.1
2000
CRIMPLENE
f.
3
LION CAVERN
CRIMSON CONQUEST
DIESIS
Gr.1
1999
BALISADA
f.
3
KRIS
BALNAHA
LOMOND
Gr.1
1998
EXCLUSIVE
f.
3
POLAR FALCON
EXCLUSIVE ORDER
EXCLUSIVE NATIVE
Gr.1
1997
REBECCA SHARP
f.
3
MACHIAVELLIAN
NURYANA
NUREYEV
Gr.1
1996
SHAKE THE YOKE
f.
3
CAERLEON
BERMUDA CLASSIC
DOUBLE FORM
Gr.1
1995
RIDGEWOOD PEARL
f.
3
INDIAN RIDGE
BEN'S PEARL
TAP ON WOOD
Gr.1
1994
KISSING COUSIN
f.
3
DANEHILL
FIRST KISS
KRIS
Gr.1
1993
GOLD SPLASH
f.
3
BLUSHING GROOM
RIVIERE D'OR
LYPHARD
Gr.1
1992
MARLING
f.
3
LOMOND
MARWELL
HABITAT
Gr.1
1991
KOOYONGA
f.
3
PERSIAN BOLD
ANJULI
NORTHFIELDS
Gr.1
1990
CHIMES OF FREEDOM
f.
3
PRIVATE ACCOUNT
AVIANCE
NORTHFIELDS
Gr.1
1989
GOLDEN OPINION
f.
3
SLEW O'GOLD
OPTIMISTIC LASS
MR PROSPECTOR
Gr.1
1988
MAGIC OF LIFE
f.
3
SEATTLE SLEW
LARIDA
NORTHERN DANCER
Gr.1
1987
MILLIGRAM
f.
3
MILL REEF
ONE IN A MILLION
RARITY
Gr.1
1986
SONIC LADY
f.
3
NUREYEV
STUMPED
OWEN ANTHONY
Gr.2
1985
AL BAHATHRI
f.
3
BLUSHING GROOM
CHAIN STORE
NODOUBLE
Gr.2
1984
KATIES
f.
3
NONOALCO
MORTEFONTAINE
POLIC
Gr.2
1983
FLAME OF TARA
f.
3
ARTAIUS
WELSH FLAME
WELSH PAGEANT
Gr.2
1982
CHALON
f.
3
HABITAT
AREOLA
KYTHNOS
Gr.2
1981
TOLMI
f.
3
GREAT NEPHEW
STILVI
DERRING-DO
Gr.2
1980
CAIRN ROUGE
f.
3
PITCAIRN
LITTLE HILLS
CANDY CANE
Gr.2
1979
ONE IN A MILLION
f.
3
RARITY
SINGE
TUDOR MUSIC
Gr.2
1978
SUTTON PLACE
f.
3
TYRANT
ALICEVA
ALCIDE
Gr.2
1977
ORCHESTRATION
f.
3
WELSH PAGEANT
TRINITY TERM
PRIMERA
Gr.2
1976
KESAR QUEEN
f.
3
NASHUA
MEADOW SAFFRON
HIGH PERCH
Gr.2
1975
ROUSSALKA
f.
3
HABITAT
OH SO FAIR
GRAUSTARK
Gr.2
1974
LISADELL
f.
3
FORLI
THONG
NANTALLAH
Gr.2
1973
JACINTH
f.
3
RED GOD
JAFFA
RIGHT ROYAL
Gr.2
1972
CALVE
f.
3
BOLD RULER
PATTI
CHANTEUR II
Gr.2
1971
MAGIC FLUTE
f.
3
TUDOR MELODY
FILIGRANA
NICCOLO DELL'ARCA
Gr.2
1970
HUMBLE DUTY
f.
3
SOVEREIGN PATH
FLATTERING
ABERNANT
Gr.2
1969
LUCYROWE
f.
3
CREPELLO
ESQUIRE GIRL
MY BABU
Gr.2
1968
SOVEREIGN II
f.
3
PARDAO
URSHALIM
NASRULLAH
Gr.2
1967
FLEET
f.
3
IMMORTALITY
REVIEW
PANORAMA
Gr.2
1966
HAYMAKING
f.
3
GALIVANTER
HAYTIME
ALYCIDON
Gr.2
1965
GREENGAGE
f.
3
PRIMERA
SUGAR PLUM
ZUCCHERO
Gr.2
1964
OCEAN
f.
3
PETITION
ARK ROYAL
STRAIGHT DEAL
Gr.2
1963
FIJI II
f.
3
ACROPOLIS
RIFIFI
MOSSBOROUGH
Gr.2
1962
DISPLAY
f.
3
RUSTAM
REVIEW
PANORAMA
Gr.2
1961
AIMING HIGH II
f.
3
DJEBE
ANNIE OAKLEY
BIG GAME
Gr.2
1960
BARBARESQUE
f.
3
OCARINA
BARBARA
FAIR TRIAL
Gr.2
1959
ROSALBA
f.
3
COURT MARTIAL
ROSE CORAL
ROCKEFELLA
Gr.2
1958
ST LUCIA
f.
3
ALYCIDON
NASSAU
NASRULLAH
Gr.2
1957
TORO
f.
3
TUDOR MINSTREL
LHORIZON
BOIS ROUSSEL
Gr.2
1956
MIDGET II
f.
3
DJEBE
MIMI
BLACK DEVIL
Gr.2
1955
MELD
f.
3
ALYCIDON
DAILY DOUBLE
FAIR TRIAL
Gr.2
1954
FESTOON
f.
3
FAIR TRIAL
MONSOON II
UMIDWAR
Gr.2
1953
HAPPY LAUGHTER
f.
3
ROYAL CHARGER
BRAY MELODY
COUP DE LYON
Gr.2
1952
ZABARA
f.
3
PERSIAN GULF
SAMOVAR
CAERLEON
Gr.2
1951
BELLE OF ALL
f.
3
NASRULLAH
VILLAGE BEAUTY
WINALOT
Gr.2
1950
TAMBARA
f.
3
NASRULLAH
THERESINA
DIOPHON
Gr.2
1949
AVILA
f.
3
HYPERION
STE THÉRÈSE
SANTORB
Gr.2
1948
FORTUITY
f.
3
COLOMBO
STONE OF FORTUNE
MAHMOUD
Gr.2
1947
SAUCY SAL
f.
3
ATOUT MAITRE
SHRIMP SAUCE
KING SALMON
Gr.2
1946
NEOLIGHT
f.
3
NEARCO
SANSONNET
SANSOVINO
Gr.2
1945
Course Non Courue
-
-
-
-
1944
Course Non Courue
-
-
-
-
1943
Course Non Courue
-
-
-
-
1942
Course Non Courue
-
-
-
-
1941
Course Non Courue
-
-
-
-
1940
Course Non Courue
-
-
-
-
1939
OLEIN
f.
3
COLOMBO
GRAND PEACE
GRAND PARADE
Gr.2
1938
SOLAR FLOWER
f.
3
SOLARIO
SERENA
WINALOT
Gr.2
1937
GAINSBOROUGH LASS
f.
3
GAINSBOROUGH
GOLDEN HAIR
GOLDEN SUN
Gr.2
1936
TRAFFIC LIGHT
f.
3
SOLARIO
POINT DUTY
GRAND PARADE
Gr.2
1935
ANKARET
f.
3
BLANDFORD
SISTER STELLA
FRIAR MARCUS
Gr.2
1934
FOXCROFT
f.
3
FOXLAW
GIRANDOLA
SWYNFORD
Gr.2
1933
BETTY
f.
3
TEDDY
MISS CAVENDISH
CHAUCER
Gr.2
1932
UDAIPUR
f.
3
BLANDFORD
UGANDA
BRIDAINE
Gr.2
1931
SUNNY DEVON
f.
3
SOLARIO
PLYMSTOCK
POLYMELUS
Gr.2
1930
QURRAT-AL-AIN
f.
3
BUCHAN
HARPSICHORD
LOUVOIS
Gr.2
1929
DAUMONT
f.
3
DILIGENCE
TILLYWHIM
MINORU
Gr.2
1928
TOBOGGAN
f.
3
HURRY ON
GLACIER
ST SIMON
Gr.2
1927
BOOK LAW
f.
3
BUCHAN
POPINGAOL
DARK RONALD
Gr.2
1926
MOTI MAHAL
f.
3
THE TETRARCH
MAGLONA
FUGLEMAN
Gr.2
1925
SAUCY SUE
f.
3
SWYNFORD
GOOD AND GAY
BAYARDO
Gr.2
1924
STRAITLACE
f.
3
SON-IN-LAW
STOLEN KISS
BEST MAN
Gr.2
1923
PAOLA
f.
3
THE TETRARCH
PAMFLETA
WILLIAM THE THIRD
Gr.2
1922
POGROM
f.
3
LEMBERG
POPINGAOL
DARK RONALD
Gr.2
1921
DONNA BRANCA
f.
3
SWYNFORD
AGACELLA
CYLLENE
Gr.2
1920
CINNA
f.
3
POLYMELUS
BARONESS LA FLECHE
LADAS
Gr.2
1919
FLYING SPEAR
f.
3
SPEARMINT
GALLOP-ALONG
GALLOPING LAD
Gr.2
1918
Course Non Courue
-
-
-
-
1917
Course Non Courue
-
-
-
-
1916
Course Non Courue
-
-
-
-
1915
Course Non Courue
-
-
-
-
1914
WASSILISSA
f.
3
EAGER
MISSOVAJA
CHESTERFIELD
Gr.2
1913
PRUE
f.
3
CICERO
PRUNE
PERSIMMON
Gr.2
1912
POLKERRIS
f.
3
POLYMELUS
KNOBKERRI
GALOPIN
Gr.2
1911
KNOCKFEERNA
f.
3
DESMOND
ADULA
GALLINULE
Gr.2
1910
WINKIPOP
f.
3
WILLIAM THE THIRD
CONJURE
JUGGLER
Gr.2
1909
PRINCESSE DE GALLES
f.
3
GALLINULE
ECILA
PERSIMMON
Gr.2
1908
LESBIA
f.
3
ST FRUSQUIN
GLARE
AYRSHIRE
Gr.2
1907
FRUGALITY
f.
3
ST FRUSQUIN
WISE VIRGIN
WISDOM
Gr.2
1906
KEYSTONE II
f.
3
PERSIMMON
LOCK AND KEY
JANISSARY
Gr.2
1905
COMMUNE
f.
3
COMMON
JERSEY
ST SIMON
Gr.2
1904
PRETTY POLLY
f.
3
GALLINULE
ADMIRATION
SARABAND
Gr.2
1903
ORIOLE
f.
3
LADAS
ORLE
BEND OR
Gr.2
1902
DOCTRINE
f.
3
AYRSHIRE
AXIOM
PETER
Gr.2
1901
BELLA GALLINA
f.
3
GALLINULE
GRACIE
ARBITRATOR
Gr.2
1900
SAINTE NITOUCHE
f.
3
ST SIMON
FLEUR DE MARIE
HERMIT
Gr.2
1900
WINIFREDA
f.
3
ST SIMON
MELODY
TYNEDALE
Gr.2
1899
FASCINATION
f.
3
ROYAL HAMPTON
CHARM
ST SIMON
Gr.2
1898
LOWOOD
f.
3
ST SERF
RYDAL
BEND OR
Gr.2
1897
GOLETTA
f.
3
GALOPIN
BISERTA
LORD LYON
Gr.2
1896
HELM
f.
3
MORION
QUETTA
BEND OR
Gr.2
1895
BUTTERFLY
f.
3
HAMPTON
MERRY DUCHESS
SPECULUM
Gr.2
1894
THROSTLE
f.
3
PETRARCH
THISTLE
SCOTTISH CHIEF
Gr.2
1893
SILENE
f.
3
ST SIMON
PALMFLOWER
THE PALMER
Gr.2
1892
LADY HERMIT
f.
3
GALOPIN
VELINDRA
YOUNG MELBOURNE
Gr.2
1891
CEREZA
f.
3
PETRARCH
CHERRY
STERLING
Gr.2
1890
HERESY
f.
3
HERMIT
PERDITION
CONTROVERSY
Gr.2
1889
SECLUSION
f.
3
HERMIT
BOUNDARY
STOCKWELL
Gr.2
1888
SEABREEZE
f.
3
ISONOMY
ST MARGUERITE
HERMIT
Gr.2
1887
HELOISE
f.
3
HERMIT
DEVOTION
STOCKWELL
Gr.2
1886
ARGO NAVIS
f.
3
NEW HOLLAND
METEOR
THUNDERBOLT
Gr.2
1885
ST HELENA
f.
3
HERMIT
CASTELLAMARE
MACARONI
Gr.2
1884
SANDIWAY
f.
3
DONCASTER
CLEMENCE
NEWMINSTER
Gr.2
1883
LOVELY
f.
3
ALVAREZ
ELECTRIC LIGHT
STERLING
Gr.2
1882
ROZELLE
f.
3
ADVENTURER
MORGIANA
SCOTTISH CHIEF
Gr.2
1881
MAZURKA
f.
3
SEE SAW
MABILLE
PARMESAN
Gr.2
1880
L'ECLAIR
f.
3
HERMIT
LIGHTNING
THUNDERBOLT
Gr.2
1879
LELIA
f.
3
KING TOM
CROCUS
THORMANBY
Gr.2
1878
REDWING
f.
3
BLAIR ATHOL
WHEAT EAR
YOUNG MELBOURNE
Gr.2
1877
BELPHOEBE
f.
3
TOXOPHILITE
VAGA
STOCKWELL
Gr.2
1876
FOOTSTEP
f.
3
SEE SAW
SANDAL
STOCKWELL
Gr.2
1875
MAUD VICTORIA
f.
3
MARSYAS
THE PRINCESS OF WALES
STOCKWELL
Gr.2
1874
APOLOGY
f.
3
ADVENTURER
MANDRAGORA
RATAPLAN
Gr.2
1873
MARIE STUART
f.
3
SCOTTISH CHIEF
MORGAN LA FAYE
COWL
Gr.2
1872
HIGHLAND LASSIE
f.
3
STOCKWELL
GLENGOWRIE
TOUCHSTONE
Gr.2
1871
CORISANDE
f.
3
KING TOM
MAY BLOOM
NEWMINSTER
Gr.2
1870
SUNSHINE
f.
3
THORMANBY
SUNBEAM
CHANTICLEER
Gr.2
1869
MARTINIQUE
f.
3
MACARONI
CURACOA
THE CURE
Gr.2
1868
ATHENA
f.
3
STOCKWELL
HEROINE
NEASHAM
Gr.2
1867
ACHIEVEMENT
f.
3
STOCKWELL
PARADIGM
PARAGONE
Gr.2
1866
MOTHER OF PEARL
f.
3
KNIGHT OF KARS
MORESCA
IAGO
Gr.2
1865
SIBERIA
f.
3
MUSCOVITE
FIGTREE
ENVOY
Gr.2
1864
BREEZE
f.
3
KING TOM
MENTMORE LASS
MELBOURNE
Gr.2
1863
LADY AUGUSTA
f.
3
STOCKWELL
MEEANEE
TOUCHSTONE
Gr.2
1862
POLYNESIA
f.
3
KINGSTON
OMOO
ORLANDO
Gr.2
1861
QUEEN OF THE VALE
f.
3
KING TOM
AGNES
PANTALOON
Gr.2
1860
ALLINGTON
f.
3
CHATHAM
THE LANDGRAVINE
ELIS
Gr.2
1859
CANTINE
f.
3
ORLANDO
VIVANDIÈRE
VOLTAIRE
Gr.2
1858
SUNBEAM
f.
3
CHANTICLEER
SUNFLOWER
BAY MIDDLETON
Gr.2
1857
BEECHNUT
f.
3
NUTWITH
CELIA
TOUCHSTONE
Gr.2
1856
VICTORIA
f.
3
MELBOURNE
MOWERINA
TOUCHSTONE
Gr.2
1855
ALCYONE
f.
3
ROBERT DE GORHAM
MISS BETSY
PLENIPOTENTIARY
Gr.2
1854
MISHAP
f.
3
ALARM
MISS SLANE
SLANE
Gr.2
1853
CATHERINE HAYES
f.
3
LANERCOST
CONSTANCE
PARTISAN
Gr.2
1852
IONA
f.
3
ION
EXOTIC
EMILIUS
Gr.2
1851
BARCELONA
f.
3
DON JOHN
INDUSTRY
PRIAM
Gr.2
1850
Slane Filly
-
-
Slane
-
-
Gr.2
1849
LADY EVELYN
f.
3
DON JOHN
INDUSTRY
PRIAM
Gr.2
1848
DISTAFFINA
f.
3
DON JOHN
INDUSTRY
PRIAM
Gr.2
1847
COSACHIA
f.
3
HETMAN PLATOFF
GALATA
SULTAN
Gr.2
1846
GUARACHA
f.
3
SHEET ANCHOR
KATHERINE
SOOTHSAYER
Gr.2
1845
STITCH
f.
3
HORNSEA
INDUSTRY
PRIAM
Gr.2
1844
THE PRINCESS
f.
3
SLANE
SISTER TO COBWEB
PHANTOM
Gr.2
1843
LA STIMATA
f.
3
VÉLOCIPÈDE
LADY SARAH
TRAMP
Gr.2
1842
CELIA
f.
3
TOUCHSTONE
AMIMA
SULTAN
Gr.2
1841
GHUZNEE
f.
3
PANTALOON
LANGUISH
CAIN
Gr.2
1840
SPANGLE
f.
3
CROESUS
VARIELLA
BLACKLOCK
Gr.2