11/07/2020
Diamond Jubilee Stakes (Gr.1)
Chevaux entiers, hongres et juments de 4 ans et au-dessus.
£260,000 (£148,000 - £55,975 - £27,975...)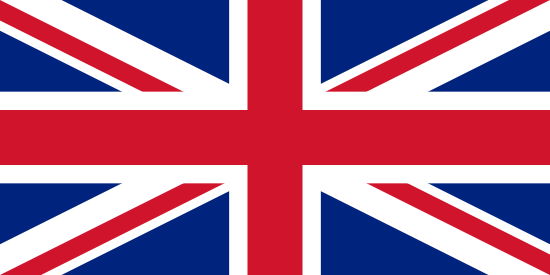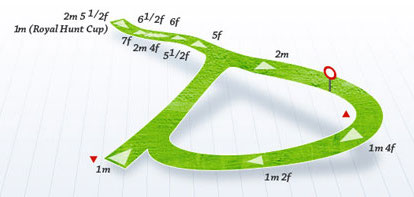 Conditions détaillées :
Weights: Colts and geldings 9st 3lb (58 kg); fillies 9st (57 kg)

Historique :
Course créée en 1868, initialement Gr.3 et connue sous le nom des All-Aged Stakes puis des Cork and Orrery Stakes jusqu'en 2001 (Golden Jubilee jusqu'en 2011), les Diamond Jubilee Stakes se disputent traditionnellement lors du meeting de Royal Ascot sur 1200 m ligne droite. Cette course réservée aux sprinters d'âge (ouverte aux 3 ans jusqu'en 2014) a accédé au niveau Gr.1 en 2002.
Programme :
On retrouve logiquement au départ les meilleurs sprinters d'âge européens et quelques 3 ans ambitieux. Sans équivalence en France, cette épreuve sert de tremplin à la July Cup.
---
Dernière édition :
20/06/2020
Diamond Jubilee Stakes (Gr.1)
£260,000 - 4 ans & + MHF
1200 m turf Ascot
m. b. 4 par Kodiac et Spasha (Shamardal)
2e : DREAM OF DREAMS (IRE)
m. 6 par Dream Ahead et Vasilia (Dansili)
3e : SCEPTICAL (GB)
h. 4 par Exceed and Excel et Jealous Again (Trippi)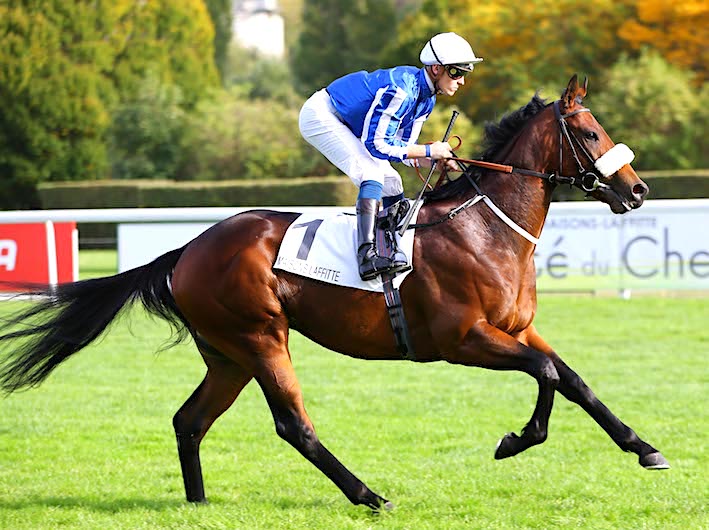 KODIAC, père du vainqueur.
Editions précédentes (152 vainqueurs) :
Année
Nom
Sexe
Age
Père
Mère
Pdm
Niveau
2019
BLUE POINT
m.
5
SHAMARDAL
SCARLETT ROSE
ROYAL APPLAUSE
Gr.1

22/06/2019

Diamond Jubilee Stakes (Gr.1)

£600,000 - 4 ans & + MHF

1200 m turf Ascot

m. b. 5 par Shamardal et Scarlett Rose (Royal Applause)

2e : DREAM OF DREAMS (IRE)

m. 5 par Dream Ahead et Vasilia (Dansili)

3e : KACHY (GB)

m. 6 par Kyllachy et Dubai Bounty (Dubai Destination)

BLUE POINT

2018
MERCHANT NAVY
m.
4
FASTNET ROCK
LEGALLY BAY
SNIPPETS
Gr.1

24/06/2018

Diamond Jubilee Stakes (Gr.1)

£600,000 - 4 ans & + MHF

1200 m turf Ascot

m. b. 4 par Fastnet Rock et Legally Bay (Snippets)

2e : CITY LIGHT (FR)

m. 4 par Siyouni et Light Saber (Kendor)

3e : BOUND FOR NOWHERE (USA)

m. 4 par The Factor et Fancy Deed (Alydeed)

MERCHANT NAVY

2017
THE TIN MAN
h.
5
EQUIANO
PERSARIO
BISHOP OF CASHEL
Gr.1

24/06/2017

Diamond Jubilee Stakes (Gr.1)

£600,000 - 4 ans & + MHF

1200 m turf Ascot

h. b. 5 par Equiano et Persario (Bishop of Cashel)

2e : TASLEET (GB)

m. 4 par Showcasing et Bird Key (Cadeaux Généreux)

3e : LIMATO (IRE)

h. 5 par Tagula et Come April (Singspiel)

THE TIN MAN

2016
TWILIGHT SON
m.
4
KYLLACHY
TWILIGHT MISTRESS
BIN AJWAAD
Gr.1

18/06/2016

Diamond Jubilee Stakes (Gr.1)

£600,000 - 4 ans & + MHF

1200 m turf Ascot

m. bf. 4 par Kyllachy et Twilight Mistress (Bin Ajwaad)

2e : GOLD-FUN (IRE)

h. 7 par Le Vei Dei Colori et Goodwood March (Foxhound)

3e : SIGNS OF BLESSING (IRE)

h. 5 par Invincible Spirit et Sun Bittern (Seeking The Gold)

TWILIGHT SON

2015
UNDRAFTED
h.
5
PURIM
FRENCH JEANNETTE
FRENCH DEPUTY
Gr.1
2014
SLADE POWER
m.
5
DUTCH ART
GIRL POWER
KEY OF LUCK
Gr.1
2013
LETHAL FORCE
m.
4
DARK ANGEL
LAND ARMY
DESERT STYLE
Gr.1
2012
BLACK CAVIAR
f.
6
BEL ESPRIT
HELSINGE
DESERT SUN
Gr.1
2011
SOCIETY ROCK
m.
4
ROCK OF GIBRALTAR
HIGH SOCIETY
KEY OF LUCK
Gr.1
2010
STARSPANGLEDBANNER
m.
4
CHOISIR
GOLD ANTHEM
MADE OF GOLD
Gr.1
2009
ART CONNOISSEUR
m.
3
LUCKY STORY
WITHORWITHOUTYOU
DANEHILL
Gr.1
2008
KINGSGATE NATIVE
h.
3
MUJADIL
NATIVE FORCE
INDIAN RIDGE
Gr.1
2007
SOLDIER'S TALE
m.
6
STRAVINSKY
MYRTLE
BATSHOOF
Gr.1
2006
LES ARCS
h.
6
ARCH
LA SARTO
CORMORANT
Gr.1
2005
CAPE OF GOOD HOPE
h.
7
INCHINOR
CAPE MERINO
CLANTIME
Gr.1
2004
FAYR JAG
h.
5
FAYRUZ
LOMINDA
LOMOND
Gr.1
2003
CHOISIR
m.
4
DANEHILL DANCER
GREAT SELECTION
LUNCHTIME
Gr.1
2002
MALHUB
m.
4
KINGMAMBO
ARJUZAH
AHONOORA
Gr.1
2001
HARMONIC WAY
m.
6
LION CAVERN
PINEAPPLE
SUPERLATIVE
Gr.3
2000
SUPERIOR PREMIUM
m.
6
FORZANDO
DEVILS DIRGE
SONG
Gr.3
1999
BOLD EDGE
m.
4
BEVELED
DARING DITTY
DARING MARCH
Gr.3
1998
TOMBA
m.
4
EFISIO
INDIAN LOVE SONG
BE MY GUEST
Gr.3
1997
ROYAL APPLAUSE
m.
4
WAAJIB
FLYING MELODY
AUCTION RING
Gr.3
1996
ATRAF
m.
3
CLANTIME
FLITTERISS PARK
BELDALE FLUTTER
Gr.3
1995
SO FACTUAL
m.
5
KNOWN FACT
SOOKERA
ROBERTO
Gr.3
1994
OWINGTON
m.
3
GREEN DESERT
OLD DOMESDAY BOOK
HIGH TOP
Gr.3
1993
COLLEGE CHAPEL
m.
3
SHARPO
SCARCELY BLESSED
SO BLESSED
Gr.3
1992
SHALFORD
m.
4
THATCHING
ENIGMA
AHONOORA
Gr.3
1991
POLISH PATRIOT
m.
3
DANZIG
MARIA WALESKA
FILIBERTO
Gr.3
1990
GREAT COMMOTION
m.
4
NUREYEV
ALATHEA
LORENZACCIO
Gr.3
1989
DANEHILL
m.
3
DANZIG
RAZYANA
HIS MAJESTY
Gr.3
1988
POSADA
f.
3
HOMING
NUPPENCE
REFORM
Gr.3
1987
BIG SHUFFLE
m.
3
SUPER CONCORDE
RAISE YOUR SKIRTS
ELEVATION
Gr.3
1986
SPERRY
m.
3
STANFORD
RUCTIONS
RASPER II
Gr.3
1985
DAFAYNA
f.
3
HABITAT
DUMKA
KASHMIR II
Gr.3
1984
COMMITTED
f.
4
HAGLEY
MINSTINGUETTE
BOLDNESIAN
Gr.3
1983
SYLVAN BARBAROSA
m.
4
NATIVE BAZAAR
THE SILVER DARLING
JOHN SPLENDID
Gr.3
1982
INDIAN KING
m.
4
RAJA BABA
PROTEST
RASH PRINCE
Gr.3
1981
THE QUIET BIDDER
m.
3
AUCTION RING
CAPULE
MIDDLEGROUND
Gr.3
1980
KEARNEY
m.
3
SANDFORD LAD
GILDED EGG
FABERGE II
Gr.3
1979
THATCHING
m.
4
THATCH
ABELLA
ABERNANT
Gr.3
1978
SWEET MINT
f.
4
MEADOW MINT
SHARP MAJOR
MAJORITY BLUE
Gr.3
1977
HE LOVES ME
m.
3
SOVEREIGN PATH
SHORT COMMONS
HARD TACK
Gr.3
1976
GENTILHOMBRE
m.
3
NO MERCY
KIRISANA
KRIBI
Gr.3
1975
SWINGTIME
f.
3
BUCKPASSER
SWOON'S TUNE
SWOON'S SON
Gr.3
1974
SARITAMER
m.
3
DANCER'S IMAGE
IRISH CHORUS
OSSIAN II
Gr.3
1973
BALLIOL
m.
4
WILL SOMERS
VIOLET BANK
THE PHOENIX
Gr.3
1972
PARSIMONY
f.
3
PARTHIA
MONEY FOR NOTHING
GREY SOVEREIGN
Gr.3
1971
KING'S COMPANY
m.
3
KING'S TROOP
MISS STEPHEN
STEPHEN PAUL
Gr.3
1970
WELSH SAINT
m.
4
ST PADDY
WELSH WAY
ABERNANT
Gr.3
1969
TUDOR MUSIC
m.
3
TUDOR MELODY
FRAN
ACROPOLIS
Gr.3
1968
MOUNTAIN CALL
m.
3
WHISTLER
CLOUDY WALK
NIMBUS II
Gr.3
1967
SILICONN
m.
5
PRINCELY GIFT
FAIR SHARE
TANTIÈME
Gr.3
1966
CURRENT COIN
m.
3
HOOK MONEY
FRANCES
MOSSBOROUGH
Gr.3
1965
MAJORITY BLUE
m.
4
MAJOR PORTION
GORM ABU
MY BABU
Gr.3
1964
Course Non Courue
-
-
-
-
1963
EL GALLO
m.
4
MATADOR
DISCIPLINER
COURT MARTIAL
Gr.3
1962
COMPENSATION
m.
3
GRATITUDE
SHILLELAGH
IRISH DANCE
Gr.3
1961
BUN PENNY
m.
3
HOOK MONEY
LADY VICTORIA
MIEUXCÉ
Gr.3
1960
TIN WHISTLE
m.
3
WHISTLER
SISTER MILES
TIBERIUS
Gr.3
1959
RIGHT BOY
m.
5
IMPECCABLE
HAPPY OGAN
BALLYOGAN
Gr.3
1958
RIGHT BOY
m.
4
IMPECCABLE
HAPPY OGAN
BALLYOGAN
Gr.3
1957
MATADOR
m.
4
GOLDEN CLOUD
SPANISH GALANTRY
MAZARIN
Gr.3
1956
GRASS COURT
m.
4
COURT MARTIAL
STARGRASS
NOBLE STAR
Gr.3
1955
TROUVILLE
m.
3
DOGAT
CHLORIS
CHÂTEAU BOUSCAUT
Gr.3
1954
KEY
f.
3
BIG GAME
WYN
WINALOT
Gr.3
1953
BLOOD TEST
m.
3
FAIR TRIAL
TURKISH BLOOD
TURKHAN
Gr.3
1952
ROYAL SERENADE
m.
4
ROYAL CHARGER
PASQUINADE
PASCH
Gr.3
1951
BOB CHERRY
m.
4
BOBSLEIGH
GOLD LILY
GOLD BRIDGE
Gr.3
1950
ABADAN II
m.
3
PERSIAN GULF
AFFAIR
FAIR TRIAL
Gr.3
1949
SOLONAWAY
m.
3
SOLFERINO
ANYWAY
GRAND GLACIER
Gr.3
1948
DELIRIUM
m.
3
PANORAMA
PASSED OUT
SOLARIO
Gr.3
1947
THE BUG
m.
4
SIGNAL LIGHT
FLYING METEOR
FLYING ORB
Gr.3
1946
HONEYWAY
m.
5
FAIRWAY
HONEY BUZZARD
PAPYRUS
Gr.3
1945
Course Non Courue
-
-
-
-
1944
Course Non Courue
-
-
-
-
1943
Course Non Courue
-
-
-
-
1942
Course Non Courue
-
-
-
-
1941
Course Non Courue
-
-
-
-
1940
Course Non Courue
-
-
-
-
1939
OLD RELIANCE
m.
4
OLD ROWLEY
BALLINGHAM LADY
HONEY BEE
Gr.3
1938
IPSDEN
h.
5
SUNNY TRACE
GOLD QUEST
GOLDEN BOSS
Gr.3
1937
PHEROZSHAH
m.
3
PHAROS
MAH MAHAL
GAINSBOROUGH
Gr.3
1936
BELLACOSE
m.
4
SIR COSMO
ORBELLA
GOLDEN ORB
Gr.3
1935
WINANDERMERE
f.
3
BERESFORD
GRASMERE
CHAUCER
Gr.3
1934
SOLENOID
m.
5
SOLDENNIS
SHANNON JUG
ATHLONE
Gr.3
1933
THE DIVOT
h.
4
BULGER
ORRIS
ORBY
Gr.3
1932
SLIPPER
m.
6
ABBOTS TRACE
OUR LIZ
WILLIAM THE THIRD
Gr.3
1931
GRINDLETON
m.
3
TORELORE
BALLYHURRY
HURRY ON
Gr.3
1930
COSTAKI PASHA
m.
4
GAINSBOROUGH
COS
FLYING ORB
Gr.3
1929
ROYAL MINSTREL
m.
4
TETRATEMA
HARPSICHORD
LOUVOIS
Gr.3
1928
ZARETTA
f.
3
HAINAULT
ZAREBA
LOMOND
Gr.3
1927
HIGHBORN
m.
4
SAINT JUST
HIGHLY
AJAX
Gr.3
1926
DIOMEDES
m.
4
ARGOS
CAPDANE
CAPTIVATION
Gr.3
1925
DRAKE
m.
5
SIR EAGER
LADY BURGHLEY
ST SERF
Gr.3
1924
HAMLET
m.
6
PRINCE PALATINE
UNWISE
SUNDRIDGE
Gr.3
1923
HAMLET
m.
5
PRINCE PALATINE
UNWISE
SUNDRIDGE
Gr.3
1922
PHARMACIE
f.
4
CHARLES O'MALLEY
PRESCRIPTION
DINNEFORD
Gr.3
1921
TÊTE-À-TÊTE
f.
4
THE TETRARCH
BILL AND COO
WILLIAM THE THIRD
Gr.3
1920
DIADEM
f.
6
ORBY
DONNETTA
DONOVAN
Gr.3
1919
FREESIA
f.
4
LOCHRYAN
ORBY mare
ORBY
Gr.3
1918
Course Non Courue
-
-
-
-
1917
Course Non Courue
-
-
-
-
1916
Course Non Courue
-
-
-
-
1915
Course Non Courue
-
-
-
-
1914
HORNET'S BEAUTY
h.
6
TREDENNIS
HORNET
HACKLER
Gr.3
1913
HORNET'S BEAUTY
h.
5
TREDENNIS
HORNET
HACKLER
Gr.3
1912
SUNFLOWER II
m.
6
SUNDRIDGE
LITTLE PRIMROSE
ROYAL HAMPTON
Gr.3
1911
GOLDEN ROD
m.
5
AMERICUS
FLOWER OF SONG
ST FLORIAN
Gr.3
1910
NEW CASTLE
m.
3
MEDDLER
HOMESPUN
HANOVER
Gr.3
1909
HILLSIDE
h.
3
HAMBURG
MORNINGSIDE
MEDDLER
Gr.3
1908
LLANGWM
m.
3
MISSEL THRUSH II
LLANGARREN LASS
FATHER CONFESSOR
Gr.3
1907
ROCKETTER
m.
4
GALLINULE
VOLANT
HERALD
Gr.3
1906
QUEEN'S HOLIDAY
f.
5
ROYAL HAMPTON
CIMIEZ
ST SIMON
Gr.3
1905
DELAUNAY
m.
4
FORTUNIO
PET
PETER
Gr.3
1904
COSSACK
m.
6
AYRSHIRE
KOSAKIN
DONCASTER
Gr.3
1903
LORD BOBS
m.
5
BEND OR
SILVER SEA
HERMIT
Gr.3
1902
REINE DES FLEURS
f.
4
BRUCE
ILLUSION
ZUT
Gr.3
1901
BRIDGE
m.
5
DEUCE OF CLUBS
IONIA
MUNCASTER
Gr.3
1900
NATTIE
f.
3
GALOPIN
GNAT
GEORGE FREDERICK
Gr.3
1899
ORIA
f.
2
ORION
HORTENSIA
AYRSHIRE
Gr.3
1898
ST LUCIA
f.
3
ST ANGELO
LITTLE EMILY
WISDOM
Gr.3
1897
RED HEART
m.
5
CHERRY RIPE
THE SABINE
XENOPHON
Gr.3
1896
SPEED
m.
5
HAMPTON
LUCETTA
TIBTHORPE
Gr.3
1895
GREY LEG
m.
4
PEPPER AND SALT
QUETTA
BEND OR
Gr.3
1894
NORTHSHAMPTON
m.
3
ROYAL HAMPTON
GEHEIMNISS
ROSICRUCIAN
Gr.3
1893
SCHEMER
h.
4
ALBERT VICTOR
SAMARIA
SYRIAN
Gr.3
1892
PETER FLOWER
m.
4
PETRARCH
FLORIDA
GLENDALE
Gr.3
1891
BELDEMONIO
m.
4
ROBERT THE DEVIL
LADY ABBESS
CATHEDRAL
Gr.3
1890
MEPHISTO
m.
7
ROBERT THE DEVIL
MEG MERRILIES
MACGREGOR
Gr.3
1889
NAPOLEON
m.
3
GALOPIN
CRUCIBLE
ROSICRUCIAN
Gr.3
1888
DEUCE OF CLUBS
m.
5
ROBERT THE DEVIL
URSULA
BEL DEMONIO
Gr.3
1887
WHITEFRIAR
m.
4
HERMIT
LADY BLANCHE
THUNDERBOLT
Gr.3
1886
WHITEFRIAR
m.
3
HERMIT
LADY BLANCHE
THUNDERBOLT
Gr.3
1885
ENERGY II
m.
5
STERLING
CHERRY DUCHESS
THE DUKE
Gr.3
1884
GEHEIMNISS
f.
5
ROSICRUCIAN
NAMELESS
BLINKHOOLIE
Gr.3
1883
DESPAIR
m.
4
SEE SAW
PEINE DE COEUR
FRIPONNIER
Gr.3
1882
MARDEN
m.
3
HERMIT
BARCHETTINA
PELION
Gr.3
1881
CHARIBERT
m.
5
THORMANBY
GERTRUDE
SAUNTERER
Gr.3
1880
VALENTINO
m.
3
SUFFOLK
MABILLE
EXCHEQUER
Gr.3
1879
HACKTHORPE
m.
4
STRAFFORD
ROSARY
SURPLICE
Gr.3
1878
TRAPPIST
m.
6
HERMIT
BUNCH
MUSCOVITE
Gr.3
1877
ECOSSAIS
m.
6
BLAIR ATHOL
MARGERY DAW
BROCKET
Gr.3
1876
LOWLANDER
m.
6
DALESMAN
LUFRA
WINDHOUND
Gr.3
1875
LOWLANDER
m.
5
DALESMAN
LUFRA
WINDHOUND
Gr.3
1874
PRINCE CHARLIE
m.
5
BLAIR ATHOL
EASTERN PRINCESS
SURPLICE
Gr.3
1873
PRINCE CHARLIE
m.
4
BLAIR ATHOL
EASTERN PRINCESS
SURPLICE
Gr.3
1872
PRINCE CHARLIE
m.
3
BLAIR ATHOL
EASTERN PRINCESS
SURPLICE
Gr.3
1871
CYMBAL
m.
4
KETTLEDRUM
NELLY HILL
SPRINGY JACK
Gr.3
1870
NORMANBY
m.
3
THORMANBY
EMILY
STOCKWELL
Gr.3
1869
Course Non Courue
-
-
-
-
1868
LANERET
m.
5
NEWMINSTER
VENISON mare
VENISON
Gr.3