22/09/2020
Irish St Leger (Gr.1)
Chevaux entiers, hongres et juments de 3 ans et au-dessus.
380.000 € (228.000 € - 76.000 € - 36.000 €...)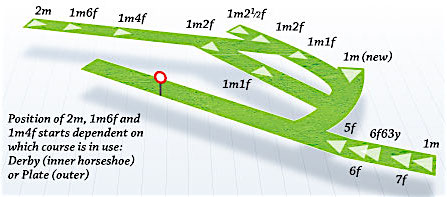 Conditions détaillées :
Weights: 3yo colts and geldings 9st (57 kg); fillies 8st 11lb (56 kg) 4yo and up colts and geldings 9st 11lb (62 kg); fillies 9st 8lb (61 kg)

Historique :
Créé en 1915, l'Irish St Leger se dispute traditionnellement au mois de Septembre sur les 2800 m du Curragh. C'est l'équivalent du St Leger anglais et du Prix Royal Oak en France. Autrefois réservé aux seuls 3 ans, il est maintenant ouvert aux chevaux d'âge.
Programme :
Dernière épreuve de la triple couronne irlandaise après les Irish Guineas et l'Irish Derby (ou Irish Oaks pour les femelles), cette épreuve mène au Prix Royal Oak, voire au Prix du Cadran ou au Prix de l'Arc de Triomphe.


---
Dernière édition :
13/09/2020
Irish St Leger (Gr.1)
380.000 € - 3 ans & + MHF
2800 m turf Curragh
f. al. 4 par Galileo et Polished Gem (Danehill)
2e : FUJAIRA PRINCE (IRE)
h. 6 par Pivotal et Zam Zoom (Dalakhani)
3e : TWILIGHT PAYMENT (IRE)
h. 7 par Teofilo et Dream on Buddy (Oasis Dream)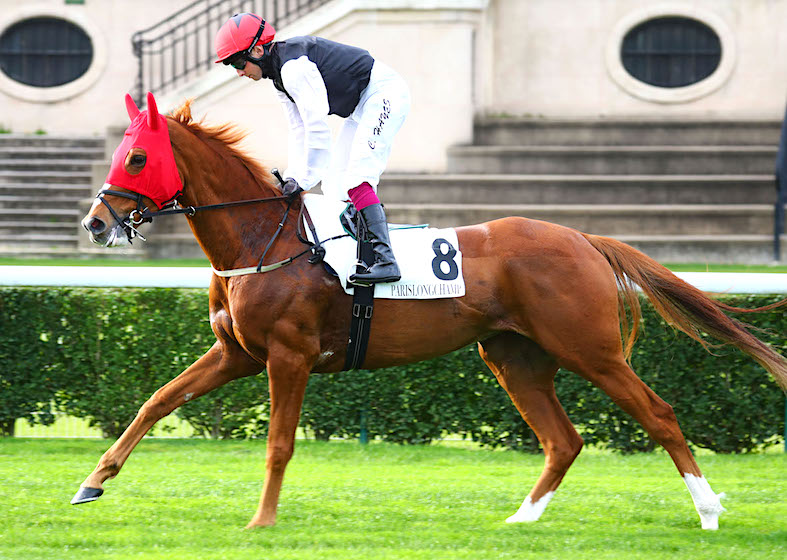 GALILEO, père des vainqueurs des 4 dernières éditions.
Editions précédentes (106 vainqueurs) :
Année
Nom
Sexe
Age
Père
Mère
Pdm
Niveau
2019
SEARCH FOR A SONG
f.
3
GALILEO
POLISHED GEM
DANEHILL
Gr.1

15/09/2019

Irish St Leger (Gr.1)

550.000 € - 3 ans & + MHF

2800 m turf Curragh

f. al. 3 par Galileo et Polished Gem (Danehill)

2e : KEW GARDENS (IRE)

m. 4 par Galileo et Chelsea Rose (Desert King)

3e : SOUTHERN FRANCE (IRE)

m. 4 par Galileo et Alta Anna (Anabaa)

SEARCH FOR A SONG

2018
FLAG OF HONOUR
m.
3
GALILEO
HAWALA
WARNING
Gr.1

16/09/2018

Irish St Leger (Gr.1)

460.000 € - 3 ans & + MHF

2800 m turf Curragh

m. b. 3 par Galileo et Hawala (Warning)

2e : LATROBE (IRE)

m. 3 par Camelot et Question Times (Shamardal)

3e : WEEKENDER (GB)

m. 4 par Frankel et Very Good News (Empire Maker)

FLAG OF HONOUR

2017
ORDER OF ST GEORGE
m.
5
GALILEO
ANOTHER STORM
GONE WEST
Gr.1

10/09/2017

Irish St Leger (Gr.1)

460.000 € - 3 ans & + MHF

2800 m turf Curragh

m. b. 5 par Galileo et Another Storm (Gone West)

2e : TORCEDOR (IRE)

h. 5 par Fastnet Rock et Magnolia Lane (Sadler's Wells)

3e : MOUNT MORIAH (GB)

h. 3 par Mount Nelson et Rule Britannia (Night Shift)

ORDER OF ST GEORGE

2016
WICKLOW BRAVE
h.
7
BEAT HOLLOW
MORAINE
RAINBOW QUEST
Gr.1

11/09/2016

Irish St Leger (Gr.1)

375.000 € - 3 ans & + MHF

2800 m turf Curragh

h. b. 7 par Beat Hollow et Moraine (Rainbow Quest)

2e : ORDER OF ST GEORGE (IRE)

m. 4 par Galileo et Another Storm (Gone West)

3e : TRIP TO PARIS (IRE)

h. 5 par Champs Elysées et La Grande Zoa (Fantastic Light)

WICKLOW BRAVE

2015
ORDER OF ST GEORGE
m.
3
GALILEO
ANOTHER STORM
GONE WEST
Gr.1
2014
BROWN PANTHER
m.
6
SHIROCCO
TREBLE HEIGHTS
UNFUWAIN
Gr.1
2013
VOLEUSE DE CŒURS
f.
4
TEOFILO
VADORGA
GRAND LODGE
Gr.1
2012
ROYAL DIAMOND
h.
6
KING'S BEST
IRRESISTIBLE JEWEL
DANEHILL
Gr.1
2011
DUNCAN
h.
6
DALAKHANI
DOLORES
DANEHILL
Gr.1
2011
JUKEBOX JURY
m.
5
MONTJEU
MARE AUX FÉES
KENMARE
Gr.1
2010
SANS FRONTIÈRES
m.
4
GALILEO
LLIA
SHIRLEY HEIGHTS
Gr.1
2009
ALANDI
m.
4
GALILEO
ALIYA
DARSHAAN
Gr.1
2008
SEPTIMUS
m.
5
SADLER'S WELLS
CALADIRA
DARSHAAN
Gr.1
2007
YEATS
m.
6
SADLER'S WELLS
LYNDONVILLE
TOP VILLE
Gr.1
2006
KASTORIA
f.
5
SELKIRK
KASSANA
SHERNAZAR
Gr.1
2005
COLLIER HILL
h.
7
DR DEVIOUS
POLAR QUEEN
POLISH PRECEDENT
Gr.1
2004
VINNIE ROE
m.
6
DEFINITE ARTICLE
KAYU
TAP ON WOOD
Gr.1
2003
VINNIE ROE
m.
5
DEFINITE ARTICLE
KAYU
TAP ON WOOD
Gr.1
2002
VINNIE ROE
m.
4
DEFINITE ARTICLE
KAYU
TAP ON WOOD
Gr.1
2001
VINNIE ROE
m.
3
DEFINITE ARTICLE
KAYU
TAP ON WOOD
Gr.1
2000
ARCTIC OWL
h.
6
MOST WELCOME
SHORT RATIONS
LORENZACCIO
Gr.1
1999
KAYF TARA
m.
5
SADLER'S WELLS
COLORSPIN
HIGH TOP
Gr.1
1998
KAYF TARA
m.
4
SADLER'S WELLS
COLORSPIN
HIGH TOP
Gr.1
1997
OSCAR SCHINDLER
m.
5
ROYAL ACADEMY
SARADAY
NORTHFIELDS
Gr.1
1996
OSCAR SCHINDLER
m.
4
ROYAL ACADEMY
SARADAY
NORTHFIELDS
Gr.1
1995
STRATEGIC CHOICE
m.
4
ALLEGED
DANLU
DANZIG
Gr.1
1994
VINTAGE CROP
h.
7
ROUSILLON
OVERPLAY
BUSTINO
Gr.1
1993
VINTAGE CROP
h.
6
ROUSILLON
OVERPLAY
BUSTINO
Gr.1
1992
MASHAALLAH
m.
4
NIJINSKY II
HOMESPUN
ROUND TABLE
Gr.1
1991
TURGEON
m.
5
CARO
REIKO
TARGOWICE
Gr.1
1990
IBN BEY
m.
6
MILL REEF
ROSIA BAY
HIGH TOP
Gr.1
1989
PETITE ILE
f.
3
ILE DE BOURBON
ACES FULL
ROUND TABLE
Gr.1
1988
DARK LOMOND
f.
3
LOMOND
ARKADINA
RIBOT
Gr.1
1987
EUROBIRD
f.
3
ELA-MANA-MOU
IRISH BIRD
SEA-BIRD
Gr.1
1986
AUTHAAL
m.
3
SHERGAR
GALLETTO
NIJINSKY II
Gr.1
1985
LEADING COUNSEL
m.
3
ALLEGED
SOCIETY COLUMN
SIR GAYLORD
Gr.1
1984
OPALE
f.
4
BUSTED
CONNING TOWER
CONNAUGHT
Gr.1
1983
MOUNTAIN LODGE
f.
4
BLAKENEY
FIDDLEDEDEE
ACROPOLIS
Gr.1
1982
TOUCHING WOOD
m.
3
ROBERTO
MANDERA
VAGUELY NOBLE
Gr.1
1981
PROTECTION RACKET
m.
3
GRAUSTARK
PROTECTORA
PROLOGO
Gr.1
1980
GONZALES
m.
3
VAGUELY NOBLE
GAZALA II
DARK STAR
Gr.1
1979
NINISKI
m.
3
NIJINSKY II
VIRGINIA HILLS
TOM ROLFE
Gr.1
1978
M-LOLSHAN
m.
3
LEVMOSS
SUPREME LADY
GREY SOVEREIGN
Gr.1
1977
TRANSWORLD
m.
3
PRINCE JOHN
HORNPIPE
HORNBEAM
Gr.1
1976
MENEVAL
m.
3
LE FABULEUX
NALEE
NASHUA
Gr.1
1975
CAUCASUS
m.
3
NIJINSKY II
QUILL
PRINCEQUILLO
Gr.1
1974
MISTIGRI
m.
3
MISTI IV
NYANGA
NEVER SAY DIE
Gr.1
1973
CONOR PASS
m.
3
TIEPOLO II
WINDFIELD LILY
HARD TACK
Gr.1
1972
PIDGET
f.
3
FORTINO II
PRIMLACE
CHAMOSSAIRE
Gr.1
1971
PARNELL
m.
3
ST PADDY
NELLA
NEARCO
Gr.1
1970
ALLANGRANGE
m.
3
LE LEVANSTELL
SILKEN PRINCESS
ARCTIC PRINCE
Gr.1
1969
REINDEER
m.
3
SANTA CLAUS
REINE DES BOIS
BOIS ROUSSEL
Gr.1
1968
GIOLLA MEAR
m.
3
HARD RIDDEN
IACOBELLA
RELIC
Gr.1
1967
DAN KANO
m.
3
DICTA DRAKE
GILLYLEES
THE BUG
Gr.1
1966
WHITE GLOVES
m.
3
HIGH HAT
GALLAMOUND
MAHMOUD
Gr.1
1965
CRAIGHOUSE
m.
3
MOSSBOROUGH
TARBERT BAY
PERSIAN GULF
Gr.1
1964
BISCAYNE
m.
3
TALGO
MARJORIE CASTLE
WINDSOR SLIPPER
Gr.1
1963
CHRISTMAS ISLAND
m.
3
COURT HARWELL
TAHITI
OCEAN SWELL
Gr.1
1962
ARCTIC VALE
m.
3
ARCTIC TIME
MILL BABY
MAZARIN
Gr.1
1961
VIMADEE
m.
3
VIMY
UPADEE
FAIRFAX
Gr.1
1960
LYNCHRIS
f.
3
SAYAJIRAO
SCOLLATA
NICCOLO DELL'ARCA
Gr.1
1959
BARCLAY
m.
3
GUERSANT
TAHITI
OCEAN SWELL
Gr.1
1958
ROYAL HIGHWAY
m.
3
STRAIGHT DEAL
QUEEN'S HIGHWAY
HIS HIGHNESS
Gr.1
1957
OMMEYAD
m.
3
HYPERION
MINARET
UMIDWAR
Gr.1
1956
MAGNETIC NORTH
m.
3
BOREALIS
MELITENSIS
CANON LAW
Gr.1
1955
DIAMOND SLIPPER
m.
3
HIS SLIPPER
NARINA
NORWEST
Gr.1
1954
ZARATHUSTRA
m.
3
PERSIAN GULF
SALVIA
SANSOVINO
Gr.1
1953
SEA CHARGER
m.
3
ROYAL CHARGER
SEA FLOWER
WALVIS BAY
Gr.1
1952
JUDICATE
m.
3
HYPERION
FAIRLY
FAIRWAY
Gr.1
1951
DO WELL
m.
3
ROSEWELL
DASARATHA
DASTUR
Gr.1
1950
MORNING MADAM
f.
3
LIMEKILN
MORNING DEW
BLANDFORD
Gr.1
1949
BROWN ROVER
m.
3
FIGHTING FOX
LA ROSE
JACOPO
Gr.1
1948
BEAU SABREUR
m.
3
HIS HIGHNESS
MASHAQ
MASSINE
Gr.1
1947
ESPRIT DE FRANCE
m.
3
EPIGRAM
FRANCILLE
BATTERSEA
Gr.1
1946
CASSOCK
m.
3
CASANOVA
LAPEL
APELLE
Gr.1
1945
SPAM
h.
3
COUP DE LYON
SPIORA
SPION KOP
Gr.1
1944
WATER STREET
m.
3
EARLY SCHOOL
NIGELLA
GALLOPER LIGHT
Gr.1
1943
SOLFERINO
m.
3
FAIRWAY
SOL SPERANZA
BALLYFERIS
Gr.1
1942
WINDSOR SLIPPER
m.
3
WINDSOR LAD
CARPET SLIPPER
PHALARIS
Gr.1
1941
ETOILE DE LYONS
m.
3
COUP DE LYON
ROSE OF JERICHO
SPION KOP
Gr.1
1940
HARVEST FEAST
m.
3
TRIGO
SALAR
SALMON-TROUT
Gr.1
1939
SKOITER
m.
3
SINGAPORE
SPY-ANN
SPION KOP
Gr.1
1938
OCHILTREE
h.
3
TOLGUS
MILLBANK
MELLERAY
Gr.1
1937
OWENSTOWN
m.
3
APRON
MADAME DE STAEL
CHAUCER
Gr.1
1936
BATTLE SONG
m.
3
SPION KOP
CRADLE SONG
HURRY ON
Gr.1
1935
MUSEUM
m.
3
LEGATEE
IMAGERY
GAINSBOROUGH
Gr.1
1934
PRIMERO
m.
3
BLANDFORD
ATHASI
FARASI
Gr.1
1933
HARINERO
m.
3
BLANDFORD
ATHASI
FARASI
Gr.1
1932
HILL SONG
m.
3
SPION KOP
CRADLE SONG
HURRY ON
Gr.1
1931
BEAUDELAIRE
m.
3
ARGOSY
MORGAN LE FEY
FARIMAN
Gr.1
1930
SOL DE TERRE
m.
3
SOLDENNIS
CASCATEL
MARCOVIL
Gr.1
1929
TRIGO
m.
3
BLANDFORD
ATHASI
FARASI
Gr.1
1928
LAW SUIT
m.
3
SON-IN-LAW
SWINEY
SWYNFORD
Gr.1
1927
BALLYVOY
m.
3
CAPTIVATION
LATHARNA
KOSMOS BEY
Gr.1
1926
SUNNY VIEW
m.
3
SIR BERKELEY
TENEDOS
POLYMELUS
Gr.1
1925
SPELTHORNE
m.
3
SPEARMINT
DUTCH MARY
WILLIAM THE THIRD
Gr.1
1924
ZODIAC
m.
3
SUNSTAR
MOLLY DESMOND
DESMOND
Gr.1
1923
O'DEMPSEY
m.
3
FLYING ORB
LA PALOMA
PROSPECTOR
Gr.1
1922
ROYAL LANCER
m.
3
SPEARMINT
ROYAL FAVOUR
WHITE EAGLE
Gr.1
1921
KIRCUBBIN
m.
3
CAPTIVATION
AVON HACK
HACKLER
Gr.1
1920
KIRK-ALLOWAY
m.
3
TRACERY
CANTRIP
DESMOND
Gr.1
1919
CHEAP POPULARITY
m.
3
TREDENNIS
EAGER BESS
EAGER
Gr.1
1918
DIONYSOS
m.
3
LLANGIBBY
DONNETTA
DONOVAN
Gr.1
1917
DOUBLE SCOTCH
m.
3
SEAFORTH
FORFARIA
FORFARSHIRE
Gr.1
1916
CAPTIVE PRINCESS
f.
3
CAPTIVATION
PRINCESS EAGER
EAGER
Gr.1
1915
LA PALOMA
f.
3
PROSPECTOR
MARCIONITE
MARCION
Gr.1