12/07/2020
King's Stand Stakes (Gr.1)
£260,000 (£148,000 - £55,975 - £27,975...)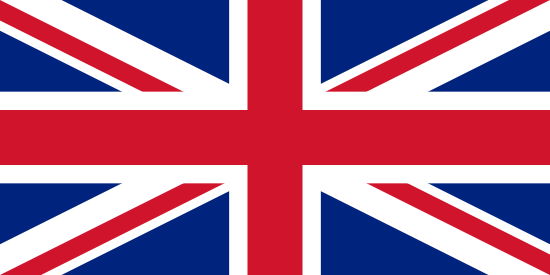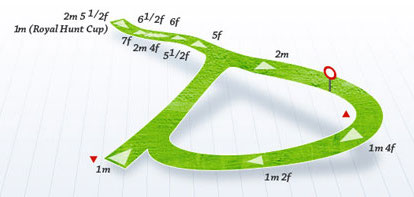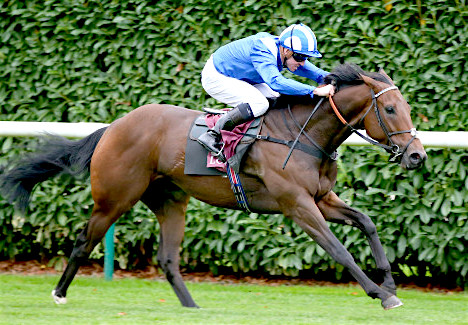 Conditions détaillées :
Weights: 3yo colts and geldings 8st 11lb ; fillies 8st 8lb ; 4yo and up colts and geldings 9st 4lb (59 kg); fillies 9st 1lb (57 kg)

Historique :
Course créée en 1860, les King's Stand Stakes se disputent traditionnellement lors du meeting de Royal Ascot sur 1000 m ligne droite. C'est la première épreuve du calendrier européen des sprinters. Initialement Gr.1, elle a perdu ce statut en 1987 pour le retrouver en 2008.
Programme :
On retrouve logiquement au départ les meilleurs sprinters d'âge face à quelques 3 ans ambitieux, et les vainqueurs des préparatoires anglaises (Temple Stakes, Duke of York Stakes, Palace House Stakes) et françaises (Prix de Saint Georges, Prix du Gros Chêne). Sans équivalence en France, cette épreuve sert de tremplin à la July Cup, voire au Golden Jubilee qui se dispute seulement quelques jours plus tard.
---
Dernière édition :
16/06/2020
King's Stand Stakes (Gr.1)
£260,000 - 3 ans & + MHF
1000 m turf Ascot
h. b. 6 par Dark Angel et Anna Law (Lawman)
2e : EQUILATERAL (GB)
h. 5 par Equiano et Tarentaise (Oasis Dream)
3e : LIBERTY BEACH (GB)
f. 3 par Cable Bay et Flirtinaskirt (Avonbridge)
DARK ANGEL, père du vainqueur.
Editions précédentes (136 vainqueurs) :
Année
Nom
Sexe
Age
Père
Mère
Pdm
Niveau
2019
BLUE POINT
m.
5
SHAMARDAL
SCARLETT ROSE
ROYAL APPLAUSE
Gr.1

18/06/2019

King's Stand Stakes (Gr.1)

£500,000 - 3 ans & + MHF

1000 m turf Ascot

m. b. 5 par Shamardal et Scarlett Rose (Royal Applause)

2e : BATTAASH (IRE)

h. 5 par Dark Angel et Anna Law (Lawman)

3e : SOLDIER'S CALL (GB)

m. 3 par Showcasing et Dijarvo (Iceman)

BLUE POINT

2018
BLUE POINT
m.
4
SHAMARDAL
SCARLETT ROSE
ROYAL APPLAUSE
Gr.1

19/06/2018

King's Stand Stakes (Gr.1)

£530,000 - 3 ans & + MHF

1000 m turf Ascot

m. b. 4 par Shamardal et Scarlett Rose (Royal Applause)

2e : BATTAASH (IRE)

h. 4 par Dark Angel et Anna Law (Lawman)

3e : MABS CROSS (GB)

f. 4 par Dutch Art et Miss Meggy (Pivotal)

BLUE POINT

2017
LADY AURELIA
f.
3
SCAT DADDY
D'WILDCAT SPEED
FOREST WILDCAT
Gr.1

20/06/2017

King's Stand Stakes (Gr.1)

£400,000 - 3 ans & + MHF

1000 m turf Ascot

f. b. 3 par Scat Daddy et D'wildcat Speed (Forest Wildcat)

2e : PROFITABLE (IRE)

m. 5 par Invincible Spirit et Dani Ridge (Indian Ridge)

3e : MARSHA (IRE)

f. 4 par Acclamation et Marlinka (Marju)

LADY AURELIA

2016
PROFITABLE
m.
4
INVINCIBLE SPIRIT
DANI RIDGE
INDIAN RIDGE
Gr.1

14/06/2016

King's Stand Stakes (Gr.1)

£400,000 - 3 ans & + MHF

1000 m turf Ascot

m. b. 4 par Invincible Spirit et Dani Ridge (Indian Ridge)

2e : COTAI GLORY (GB)

m. 4 par Exceed And Excel et Continua (Elusive Quality)

3e : GOKEN (FR)

m. 4 par Kendargent et Gooseley Chope (Indian Rocket)

PROFITABLE

2015
GOLDREAM
h.
6
OASIS DREAM
CLIZIA
MACHIAVELLIAN
Gr.1
2014
SOLE POWER
h.
7
KYLLACHY
DEMERGER
DISTANT VIEW
Gr.1
2013
SOLE POWER
h.
6
KYLLACHY
DEMERGER
DISTANT VIEW
Gr.1
2012
LITTLE BRIDGE
h.
6
FALTAAT
GOLDEN ROSE
GOLD BROSE
Gr.1
2011
PROHIBIT
h.
6
OASIS DREAM
WELL WARNED
WARNING
Gr.1
2010
EQUIANO
m.
5
ACCLAMATION
ENTENTE CORDIALE
ELA-MANA-MOU
Gr.1
2009
SCENIC BLAST
h.
5
SCENIC
DAUGHTER'S CHARM
DELGADO
Gr.1
2008
EQUIANO
m.
3
ACCLAMATION
ENTENTE CORDIALE
ELA-MANA-MOU
Gr.1
2007
MISS ANDRETTI
f.
6
IHTIRAM
PEGGIE'S BID
MAROONED
Gr.2
2006
TAKEOVER TARGET
h.
7
CELTIC SWING
SHADY STREAM
ARCHREGENT
Gr.2
2005
CHINEUR
m.
4
FASLIYEV
WARDARA
SHARPO
Gr.2
2004
THE TATLING
h.
7
PERUGINO
AUNTY EILEEN
AHONOORA
Gr.2
2003
CHOISIR
m.
4
DANEHILL DANCER
GREAT SELECTION
LUNCHTIME
Gr.2
2002
DOMINICA
f.
3
ALHAARTH
DOMINIO
DOMINION
Gr.2
2001
CASSANDRA GO
f.
5
INDIAN RIDGE
RAHAAM
SECRETO
Gr.2
2000
NUCLEAR DEBATE
h.
5
GEIGER COUNTER
I'M AN ISSUE
COX'S RIDGE
Gr.2
1999
MITCHAM
h.
3
HAMAS
ARAB SCIMETAR
SURE BLADE
Gr.2
1998
BOLSHOI
h.
6
ROYAL ACADEMY
MAINLY DRY
THE BRIANSTAN
Gr.2
1997
DON'T WORRY ME
f.
5
DANCING DISSIDENT
DIVA ENCORE
STAR APPEAL
Gr.2
1996
PIVOTAL
m.
3
POLAR FALCON
FEARLESS REVIVAL
COZZENE
Gr.2
1995
PICCOLO
m.
4
WARNING
WOODWIND
WHISTLING WIND
Gr.2
1994
LOCHSONG
f.
6
SONG
PECKITTS WELL
LOCHNAGER
Gr.2
1993
ELBIO
m.
6
PRECOCIOUS
MAGANYOS
PIONEER
Gr.2
1992
SHEIKH ALBADOU
m.
4
GREEN DESERT
SANCTUARY
WELSH PAGEANT
Gr.2
1991
ELBIO
m.
4
PRECOCIOUS
MAGANYOS
PIONEER
Gr.2
1990
DAYJUR
m.
3
DANZIG
GOLD BEAUTY
MR PROSPECTOR
Gr.2
1989
INDIAN RIDGE
m.
4
AHONOORA
HILLBROW
SWING EASY
Gr.2
1988
CHILIBANG
m.
4
FORMIDABLE
CHILI GIRL
SKYMASTER
Gr.2
1987
BLUEBIRD
m.
3
STORM BIRD
IVORY DAWN
SIR IVOR
Gr.2
1986
LAST TYCOON
m.
3
TRY MY BEST
MILL PRINCESS
MILL REEF
Gr.1
1985
NEVER SO BOLD
m.
5
BOLD LAD (IRE)
NEVER NEVER LAND
HABITAT
Gr.1
1984
HABIBTI
f.
4
HABITAT
KLAIRESSA
KLAIRON
Gr.1
1983
SAYF EL ARAB
m.
3
DRONE
MAKE PLANS
GO MARCHING
Gr.1
1982
FEARLESS LAD
m.
3
IMPORT
NO FEAR
QUAYSIDE
Gr.1
1981
MARWELL
f.
3
HABITAT
LADY SEYMOUR
TUDOR MELODY
Gr.1
1980
AFRICAN SONG
m.
3
AFRICAN SKY
GOLDWYN PRINCESS
NATIVE PRINCE
Gr.1
1979
DOUBLE FORM
m.
4
HABITAT
FANGHORN
CROCKET
Gr.1
1978
SOLINUS
m.
3
COMEDY STAR
CAWSTON'S PRIDE
CON BRIO II
Gr.1
1977
GODSWALK
m.
3
DANCER'S IMAGE
KATE'S INTENT
INTENTIONALLY
Gr.1
1976
LOCHNAGER
m.
4
DUMBARNIE
MISS BARBARA
LE DIEU D'OR
Gr.1
1975
FLIRTING AROUND
m.
4
ROUND TABLE
HAPPY FLIRT
JOHNS JOY
Gr.1
1974
BAY EXPRESS
m.
3
POLYFOTO
PAL SINNA
PALESTINE
Gr.1
1973
ABERGWAUN
f.
5
BOUNTEOUS
DUGO
DUMBARNIE
Gr.1
1972
SWEET REVENGE
m.
5
COMPENSATION
TOO MUCH HONEY
HONEYWAY
Gr.1
1971
SWING EASY
m.
3
DELTA JUDGE
FREE FLOWING
POLYNESIAN
Gr.1
1970
AMBER RAMA
m.
3
JAIPUR
PINK SILK
SPY SONG
Gr.1
1969
SONG
m.
3
SING SING
INTENT
VILMORIN
Gr.1
1968
D'URBERVILLE
h.
3
KLAIRON
COURTESSA
SUPREME COURT
Gr.1
1967
BE FRIENDLY
m.
3
SKYMASTER
LADY SLIPTIC
PRECIPTIC
Gr.1
1966
ROUGHLYN
h.
5
BALLYLINAN
SUN GARDEN
HYPERIDES
Gr.1
1965
GOLDHILL
m.
4
LE DIEU D'OR
GILDED ROSE
MIDAS II
Gr.1
1964
Course Non Courue
-
-
-
-
1963
MAJORITY RULE
m.
3
DEMOCRATIC
FELINE
THE PHOENIX
Gr.1
1962
CASSARATE
f.
3
ABERNANT
CASSYDORA
NASRULLAH
Gr.1
1961
SILVER TOR
m.
3
GREY SOVEREIGN
THEADORA
HYACINTHUS
Gr.1
1960
SOUND TRACK
m.
3
WHISTLER
BRIDLE WAY
MUSTANG
Gr.1
1959
CHRIS
m.
3
VILMORIN
TIE SILK
BALLYOGAN
Gr.1
1958
DRUM BEAT
m.
5
FAIR TRIAL
RESPITE
FLAG OF TRUCE
Gr.1
1957
RIGHT BOY
m.
3
IMPECCABLE
HAPPY OGAN
BALLYOGAN
Gr.1
1956
PALARIVA
f.
3
PALESTINE
RIVAZ
NEARCO
Gr.1
1955
PAPPA FOURWAY
m.
3
PAPPAGENO II
OOLA HILLS
DENTURIUS
Gr.1
1954
GOLDEN LION
h.
3
GOLDEN CLOUD
LYONALIA
COUP DE LYON
Gr.1
1953
FAIRY FLAX
f.
4
PENSIVE
CONFETTI
WAR ADMIRAL
Gr.1
1952
EASTER BRIDE
f.
3
EMIR D'IRAN
GRACEFUL BRIDE
GOLDEN GRACE
Gr.1
1951
STEPHEN PAUL
m.
3
PANORAMA
PARADISE
DASTUR
Gr.1
1950
TANGLE
m.
3
MUSTANG
ENGLEWOOD
COLORADO KID
Gr.1
1949
ABERNANT
m.
3
OWEN TUDOR
RUSTOM MAHAL
RUSTOM PASHA
Gr.1
1948
SQUANDER BUG
m.
5
GOLD BRIDGE
LOVE OF GAIN
GAINSBOROUGH
Gr.1
1947
GREEK JUSTICE
m.
3
FAIR TRIAL
PHAETUSA
HYPERION
Gr.1
1946
VILMORIN
m.
3
GOLD BRIDGE
QUEEN OF THE MEADOWS
FAIRWAY
Gr.1
1939
MICKEY THE GREEK
m.
5
APPLE SAMMY
IONIAN FAIRY
MILESIUS
Gr.1
1938
FORAY II
m.
4
TETRATEMA
BLACK RAY
BLACK JESTER
Gr.1
1937
TICCA GARI
f.
3
DARK JAPAN
TEHERAN
PRINCE PHILIP
Gr.1
1936
SWEET POLLY
f.
4
KOPI
HAMPSTEAD
SYNDRIAN
Gr.1
1935
SHALFLEET
m.
4
DIOMEDES
PRINCESS CHARMING
PHALARIS
Gr.1
1934
GOLD BRIDGE
m.
5
GOLDEN BOSS
FLYING DIADEM
DIADUMENOS
Gr.1
1933
GOLD BRIDGE
m.
4
GOLDEN BOSS
FLYING DIADEM
DIADUMENOS
Gr.1
1932
LEMNARCHUS
m.
4
FRIAR MARCUS
LEMNOS
LEMBERG
Gr.1
1931
STINGO
m.
4
TREMOLA
MERRY ORB
ORBY
Gr.1
1929
TAG END
m.
5
TAGRAG
SHORT LINE
SHORT LINE
Gr.1
1926
HIGHBORN
m.
3
SAINT JUST
HIGHLY
AJAX
Gr.1
1925
DIOMEDES
m.
3
ARGOS
CAPDANE
CAPTIVATION
Gr.1
1924
GOLDEN BOSS
m.
4
THE BOSS
GOLDEN HEN
CHEVELE D'OR
Gr.1
1923
GOLDEN BOSS
m.
3
THE BOSS
GOLDEN HEN
CHEVELE D'OR
Gr.1
1922
KING SOL
m.
8
VALENS
SOL-FA
SOLIMAN
Gr.1
1921
TETRATEMA
m.
4
THE TETRARCH
SCOTCH GIFT
SYMINGTON
Gr.1
1920
DIADEM
f.
6
ORBY
DONNETTA
DONOVAN
Gr.1
1919
DIADEM
f.
5
ORBY
DONNETTA
DONOVAN
Gr.1
1914
ADULAR
m.
4
BOGDANY
DUCZI
DORIAS
Gr.1
1913
HORNET'S BEAUTY
h.
5
TREDENNIS
HORNET
HACKLER
Gr.1
1912
GREAT SURPRISE
m.
4
FARIMAN
ARMOREL
FLORENTINE
Gr.1
1911
HORNET'S BEAUTY
h.
3
TREDENNIS
HORNET
HACKLER
Gr.1
1910
SPANISH PRINCE
m.
3
UGLY
GALAZORA
GALEAZZO
Gr.1
1907
CAMP FIRE
m.
4
CARBINE
REVELRY
PETER
Gr.1
1906
THRUSH
m.
4
MISSEL THRUSH II
CHEMISTRY
CHARIBERT
Gr.1
1905
DELAUNAY
m.
4
FORTUNIO
PET
PETER
Gr.1
1904
SUNDRIDGE
m.
6
AMPHION
SIERRA
SPRINGFIELD
Gr.1
1903
SUNDRIDGE
m.
5
AMPHION
SIERRA
SPRINGFIELD
Gr.1
1901
ELIZABETH M
f.
3
WATERCRESS
HANA
ALARM
Gr.1
1900
EAGER
m.
6
ENTHUSIAST
GREEBA
MELTON
Gr.1
1899
KILCOCK
m.
7
KILWARLIN
BONNIE MORN
ROSICRUCIAN
Gr.1
1898
KILCOCK
m.
6
KILWARLIN
BONNIE MORN
ROSICRUCIAN
Gr.1
1897
WOOLSTHORPE
m.
9
TIBTHORPE
LIGHT OF OTHER DAYS
BALFE
Gr.1
1896
WISHARD
h.
3
BOB MILES
ORANGE BLOSSOM
BUCKDEN
Gr.1
1895
WOOLSTHORPE
m.
7
TIBTHORPE
LIGHT OF OTHER DAYS
BALFE
Gr.1
1894
BEST MAN
m.
4
ORMONDE
WEDLOCK
WENLOCK
Gr.1
1893
PRINCE HAMPTON
m.
5
ROYAL HAMPTON
PIBROCH
CRAIG MILLAR
Gr.1
1892
LADY LENA
f.
3
CYLINDER
MARCHIONESS
PELLEGRINO
Gr.1
1891
LADY CAROLINE
f.
2
MACHEATH
TWINE THE PLAIDEN
BLAIR ATHOL
Gr.1
1890
BUMPTIOUS
m.
2
BRAG
HEADLONG
PELL MELL
Gr.1
1888
NOBLE CHIEFTAIN
m.
3
FITZ-JAMES
VILLAGE BELLE
MOULSEY
Gr.1
1887
CROWBERRY
m.
2
ROSEBERY
LIZZIE LINDSAY
SCOTTISH CHIEF
Gr.1
1884
GEHEIMNISS
f.
5
ROSICRUCIAN
NAMELESS
BLINKHOOLIE
Gr.1
1881
ISHMAEL
m.
3
ADVENTURER
LINA
STOCKWELL
Gr.1
1880
CHARIBERT
m.
4
THORMANBY
GERTRUDE
SAUNTERER
Gr.1
1879
HACKTHORPE
m.
4
STRAFFORD
ROSARY
SURPLICE
Gr.1
1878
LOLLYPOP
m.
5
SOUVENIR
SUGARSTICK
STOCKWELL
Gr.1
1877
SPRINGFIELD
m.
4
ST ALBANS
VIRIDIS
MARSYAS
Gr.1
1876
LOWLANDER
m.
6
DALESMAN
LUFRA
WINDHOUND
Gr.1
1875
TANGIBLE
m.
5
BLAIR ATHOL
TOUCH ME NOT
TOUCHSTONE
Gr.1
1874
BLENHEIM
m.
6
OXFORD
MISS LIVINGSTONE
THE FLYING DUTCHMAN
Gr.1
1873
PRINCE CHARLIE
m.
4
BLAIR ATHOL
EASTERN PRINCESS
SURPLICE
Gr.1
1872
BERTRAM
m.
3
THE DUKE
CONSTANCE
FAUGH-A-BALLAGH
Gr.1
1871
CHOPETTE
f.
2
NORTH LINCOLN
MAHALA
RATAPLAN
Gr.1
1870
KING OF THE FOREST
m.
2
SCOTTISH CHIEF
LIONESS
FANDANGO
Gr.1
1869
GERTRUDE
f.
2
SAUNTERER
QUEEN BERTHA
KINGSTON
Gr.1
1867
CECROPS
m.
4
NEWCOURT
CAVRIANA
MOUNTAIN DEER
Gr.1
1866
HIPPIA
f.
2
KING TOM
DAUGHTER OF THE STAR
KREMLIN
Gr.1
1865
SACCHAROMETER
m.
5
SWEETMEAT
DEFAMATION
IAGO
Gr.1
1863
UMPIRE
m.
6
LECOMTE
ALICE CARNEAL
SARPEDON
Gr.1
1861
BUCKSTONE
m.
2
VOLTIGEUR
BURLESQUE
TOUCHSTONE
Gr.1
1860
QUEEN OF THE VALE
f.
2
KING TOM
AGNES
PANTALOON
Gr.1