26/10/2020
Sun Chariot Stakes (Gr.1)
Pouliches et juments de 3 ans et au-dessus.
£235,000 (£133,269 - £50,525 - £25,286...)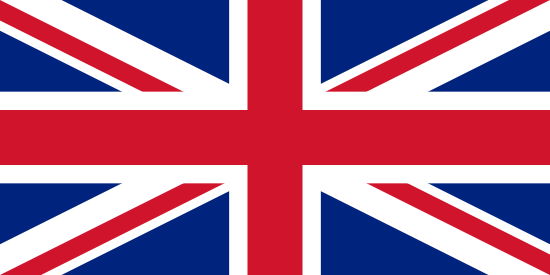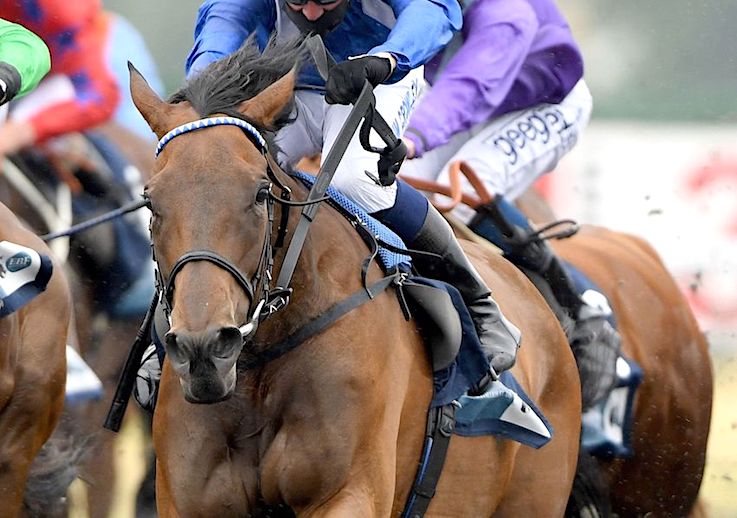 Conditions détaillées :
Weights: 3yo 9st (57 kg); 4yo and up 9st 3lb (58 kg)


Historique :
Course créée en 1966, les Sun Chariot Stakes se disputent traditionnellement en toute fin du mois de septembre ou début octobre sur le parcours sélectif des 1600 m ligne droite du Rowley Mile de Newmarket. Seule occasion automnale permettant aux pouliches milers d'éviter les mâles, elle a accédé au niveau Gr.1 en 2004.

Programme :
On retrouve généralement au départ de bonnes spécialistes de la distance, voire des 3 ans classiques en quête de rachat après avoir échoué face aux mâles. Cette épreuve n'a pas d'équivalence en France à l'automne.
---
Dernière édition :
03/10/2020
Sun Chariot Stakes (Gr.1)
£235,000 - 3 ans & + F
1600 m turf Newmarket
f. b. 4 par Invincible Spirit et Handassa (Dubawi)
2e : HALF LIGHT (IRE)
f. 4 par Shamardal et Northern Melody (Singspiel)
3e : CLOAK OF SPIRITS (IRE)
f. 3 par Invincible Spirit et Pivotique (Pivotal)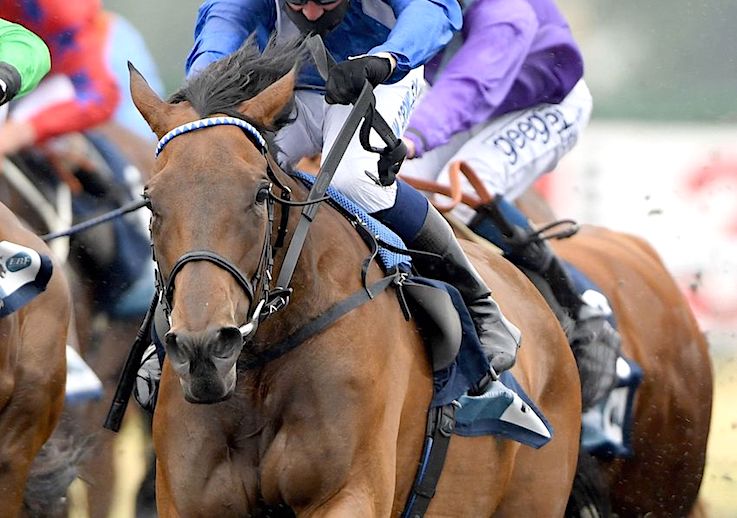 INVINCIBLE SPIRIT, père de la gagnante et de la troisième.
Editions précédentes (54 vainqueurs) :
Année
Nom
Sexe
Age
Père
Mère
Pdm
Niveau
2019
BILLESDON BROOK
f.
4
CHAMPS ELYSÉES
COPLOW
MANDURO
Gr.1

05/10/2019

Sun Chariot Stakes (Gr.1)

£250,000 - 3 ans & + F

1600 m turf Newmarket

f. al. 4 par Champs Elysées et Coplow (Manduro)

2e : VERACIOUS (GB)

f. 4 par Frankel et Infallible (Pivotal)

3e : IRIDESSA (IRE)

f. 3 par Ruler of the World et Senta's Dream (Danehill)

BILLESDON BROOK

2018
LAURENS
f.
3
SIYOUNI
RECAMBE
CAPE CROSS
Gr.1

06/10/2018

Sun Chariot Stakes (Gr.1)

£250,000 - 3 ans & + F

1600 m turf Newmarket

f. b. 3 par Siyouni et Recambe (Cape Cross)

2e : HAPPILY (IRE)

f. 3 par Galileo et You'resothrilling (Storm Cat)

3e : ALTYN ORDA (IRE)

f. 3 par Kyllachy et Albanka (Giant's Causeway)

LAURENS

2017
ROLY POLY
f.
3
WAR FRONT
MISTY FOR ME
GALILEO
Gr.1

07/10/2017

Sun Chariot Stakes (Gr.1)

£250,000 - 3 ans & + F

1600 m turf Newmarket

f. b. 3 par War Front et Misty for Me (Galileo)

2e : PERSUASIVE (IRE)

f. 4 par Dark Angel et Choose Me (Choisir)

3e : NATHRA (IRE)

f. 4 par Iffraaj et Rada (Dansili)

ROLY POLY

2016
ALICE SPRINGS
f.
3
GALILEO
ALEAGUEOFTHEIROWN
DANEHILL DANCER
Gr.1

01/10/2016

Sun Chariot Stakes (Gr.1)

£250,000 - 3 ans & + F

1600 m turf Newmarket

f. al. 3 par Galileo et Aleagueoftheirown (Danehill Dancer)

2e : ALWAYS SMILE (IRE)

f. 4 par Cape Cross et Eastern Joy (Dubai Destination)

3e : ERVEDYA (FR)

f. 4 par Siyouni et Elva (King's Best)

ALICE SPRINGS

2015
ESOTÉRIQUE
f.
5
DANEHILL DANCER
DIEVOTCHKA
DANCING BRAVE
Gr.1

03/10/2015

Sun Chariot Stakes (Gr.1)

£250,000 - 3 ans & + F

1600 m turf Newmarket

f. b. 5 par Danehill Dancer et Dievotchka (Dancing Brave)

2e : INTEGRAL (GB)

f. 5 par Dalakhani et Echelon (Danehill)

3e : IRISH ROOKIE (IRE)

f. 3 par Azamour et Bold Assumption (Observatory)

ESOTÉRIQUE...

2014
INTEGRAL
f.
4
DALAKHANI
ECHELON
DANEHILL
Gr.1
2013
SKY LANTERN
f.
3
RED CLUBS
SHAWANNI
SHAREEF DANCER
Gr.1
2012
SIYOUMA
f.
4
MEDICEAN
SICHILLA
DANEHILL
Gr.1
2011
SAHPRESA
f.
6
SAHM
SORPRESA
PLEASANT TAP
Gr.1
2010
SAHPRESA
f.
5
SAHM
SORPRESA
PLEASANT TAP
Gr.1
2009
SAHPRESA
f.
4
SAHM
SORPRESA
PLEASANT TAP
Gr.1
2008
HALFWAY TO HEAVEN
f.
3
PIVOTAL
CASSANDRA GO
INDIAN RIDGE
Gr.1
2007
MAJESTIC ROI
f.
3
STREET CRY
L'EXTRA HONOR
HERO'S HONOR
Gr.1
2006
SPINNING QUEEN
f.
3
SPINNING WORLD
OUR QUEEN OF KINGS
ARAZI
Gr.1
2005
PEERESS
f.
4
PIVOTAL
NOBLE ONE
PRIMO DOMINIE
Gr.1
2004
ATTRACTION
f.
3
EFISIO
FLIRTATION
PURSUIT OF LOVE
Gr.1
2003
ECHOES IN ETERNITY
f.
3
SPINNING WORLD
MAGNIFICIENT STYLE
SILVER HAWK
Gr.2
2002
DRESS TO THRILL
f.
3
DANEHILL
TRUSTED PARTNER
AFFIRMED
Gr.2
2001
INDEPENDENCE
f.
3
SELKIRK
YUKON HOPE
FORTY NINER
Gr.2
2000
DANCEABOUT
f.
3
SHAREEF DANCER
PUTUPON
MUMMY'S PET
Gr.2
1999
LADY IN WAITING
f.
4
KYLIAN
HIGH SAVANNAH
ROUSILLON
Gr.2
1998
KISSOGRAM
f.
3
CAERLEON
ALLIGRAM
ALYSHEBA
Gr.2
1997
ONE SO WONDERFUL
f.
3
NASHWAN
SOMEONE SPECIAL
HABITAT
Gr.2
1996
LAST SECOND
f.
3
ALZAO
ALRUCCABA
CRYSTAL PALACE
Gr.2
1995
WARNING SHADOWS
f.
3
CADEAUX GÉNÉREUX
SILENT MOVIE
SHIRLEY HEIGHTS
Gr.2
1994
LA CONFÉDÉRATION
f.
3
NUREYEV
UNITE
KRIS
Gr.2
1993
TALENTED
f.
3
BUSTINO
TRIPLE REEF
MILL REEF
Gr.2
1992
RED SLIPPERS
f.
3
NUREYEV
MORNING DEVOTION
AFFIRMED
Gr.2
1991
RISTNA
f.
3
KRIS
ROUSSALKA
HABITAT
Gr.2
1990
KARTAJANA
f.
3
SHERNAZAR
KARAMITA
SHANTUNG
Gr.2
1989
BRAISWICK
f.
3
KING OF SPAIN
LAUGHING GIRL
SASSAFRAS
Gr.2
1988
INDIAN SKIMMER
f.
4
STORM BIRD
NOBILIARE
VAGUELY NOBLE
Gr.2
1987
INFAMY
f.
3
SHIRLEY HEIGHTS
SERIEMA
PETINGO
Gr.2
1986
DUSTY DOLLAR
f.
3
KRIS
SAUCEBOAT
CONNAUGHT
Gr.2
1985
FREE GUEST
f.
4
BE MY GUEST
FREMANCHE
JIM FRENCH
Gr.2
1984
FREE GUEST
f.
3
BE MY GUEST
FREMANCHE
JIM FRENCH
Gr.2
1983
CORMORANT WOOD
f.
3
HOME GUARD
QUARRY WOOD
SUPER SAM II
Gr.2
1982
TIME CHARTER
f.
3
SARITAMER
CENTROCON
HIGH LINE
Gr.2
1981
HOME ON THE RANGE
f.
3
HABITAT
GREAT GUNS
BUSTED
Gr.2
1980
SNOW
f.
3
YOUNG EMPEROR
ARCTIC WALK
ARCTIC SLAVE
Gr.2
1979
TOPSY
f.
3
HABITAT
FURIOSO
BALLYMOSS
Gr.2
1978
SWISS MAID
f.
3
WELSH PAGEANT
HORNTON GRANGE
HORNBEAM
Gr.2

07/10/1978

Sun Chariot Stakes (Gr.2)

£200,000 - 3 ans & + F

2000 m turf Newmarket

f. b. 3 par Welsh Pageant et Hornton Grange (Hornbeam)

2e : BE SWEET (GB)

f. 3 par Reform et Come on Honey (Never Say Die)

3e : UPPER DECK (GB)

f. 3 par Sun Prince et Bedeni (Parthia)

SWISS MAID devant BE SWEET, UPPER DECK et BUTTON UP

1977
TRIPLE FIRST
f.
3
HIGH TOP
FIELD MOUSE
GREY SOVEREIGN
Gr.2
1976
RANIMER
f.
3
RELKO
ANAHITA
PERSIAN GULF
Gr.2
1975
DUBOFF
f.
3
SO BLESSED
PROPER PRETTY
WORDEN II
Gr.2
1974
SWEET FAREWELL
f.
3
CANDY CANE
THERE SHE GOES
TAMERLANE
Gr.2
1973
CHEVELEY PRINCESS
f.
3
BUSTED
FEATHER BED
GRATITUDE
Gr.2
1972
SLEAT
f.
3
SANTA CLAUS
BELLE OF ATHENS
ACROPOLIS
Gr.2
1971
HILL CIRCUS
f.
3
HILLARY
MARY MACHREE
MOONLIGHT RUN
Gr.2
1970
POPKINS
f.
3
ROMULUS
PEAT FIRE
MOSSBOROUGH
Gr.2
1969
LUCYROWE
f.
3
CREPELLO
ESQUIRE GIRL
MY BABU
Gr.2
1968
HILL SHADE
f.
3
HILLARY
PENUMBRA
IMPERIUM
Gr.2
1967
CRANBERRY SAUCE
f.
3
CREPELLO
QUEENSBERRY
GREY SOVEREIGN
Gr.2
1966
LUCAYA
f.
3
OSSIAN II
BLUE SOLITAIRE
ABRAXAS
Gr.2